Lynn Eglseder has been a Registered Respiratory Therapist since 1976. She has worked in numerous medical settings and has taught classes throughout her career. Past employers include:
Visiting Angels, Eldersburg, MD
Montgomery General Hospital, Olney, MD
Northwest General Hospital, Randallstown, MD
St Agnes Hospital, Catonsville, MD
General Hospital of Virginia Beach, Virginia Beach, VA
York Hospital, York, PA
She has continuing education certificates for Carroll Hospice in the fields of "Caring for Dementia Patients", "Caring for COPD Patients", and "Caring for CHF Patients".
Memberships & Affiliations:
American Heart Association CPR Instructor (and Instructor Trainer)
Red Cross Instructor
Member, AARC American Academy of Respiratory Care
Member, NBRC National Board of Respiratory Care
Member, NAMI National Alliance on Mental Illness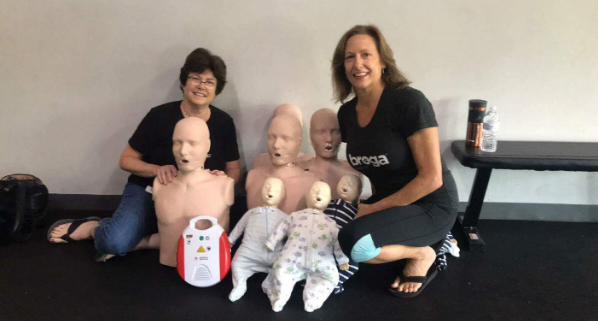 Lynn Eglseder (left) with Sarah Conner Duda – Heartsaver CPR class at I Am Fitness, fall 2017.
A personal note from Lynn:
"I have personally administered CPR on many people throughout my Respiratory Therapy career. The most memorable was my own son the first night home from the hospital, and he's now 31 years old!
"I have responded to many emergencies over the years using my health care skills. I have done the abdominal thrust (old Heimlich) several time in restaurants and on family members, the most recent was my grandson in Florida – thankfully I knew what to do to clear the obstruction. I am forever grateful for my skills because I have been able to react quickly to help save lives.
"I also enjoy training underprivileged students from different agencies at reduced or no cost, just so that they know how to react if they would need to.
"My passion is that people know what to do in that emergency situation. I feel that this is my mission in life. My calling."